There is often confusion between the term Structural Engineers Report and Structural Survey. It's important to understand the difference between them, so you are confident your building is structurally safe and sound.
What is a structural survey?
A structural survey is a survey of the skeletal structure of a property, carried out by a Chartered Structural Engineer. The term structural survey or report is still misused as it can mean a general building survey such as the Level 2 RICS Home Survey or Level RICS Building Survey. So confirm with your adviser whether they mean a general surveyor's report or a specialist Structural Engineers' Report. And if a specialist report is needed, then use a fully qualified Chartered Structural Engineer.
A structural survey examines the whole house including roof coverings, joinery, plumbing, plasterwork, gas services and more. However, a surveyor's structural knowledge may vary, some will report decisively while others refer any concerns to a specialist structural engineer like ourselves.
For a routine property purchase, this type of survey will normally suffice unless there are apparent structural problems. Usually, the RICS recommends a level 2 surveyors report for well-maintained modern apartments and smaller houses, and for older properties, a level 3 survey, especially if the property is unmodernised or in poor condition.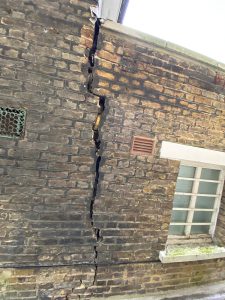 A structural engineer's report inspects only the structural integrity of the building, the load-bearing components, such as the roof, walls, floors, beams and associated defects such as cracks, subsidence, or non-compliant building work.
As there is no industry guidance for Structural Engineer's Reports, we have defined our own two types of report:
Structural Engineers Defect Inspection Report for specific localised defects
Structural Engineers General Movement Report for multiple cracks or movement.
A Structural Engineers Report is usually requested when:
A mortgage valuation surveyor is concerned about cracks or movement
A Surveyor carrying out a level 2 or level 3 survey (see above) has structural issues.
A buyer is concerned about a defect and might not have commissioned a surveyor's report.
A vendor or estate agent becomes aware of a potential defect during the purchasing process and wants more information.
A homeowner (not selling) is worried about cracks or other defects in their property.
It is important to use a fully qualified MEMBER or FELLOW of the Institution of Structural Engineers to undertake your Structural Engineers Report as only this level of qualification is recognised by lenders and insurers. Take a look at our FAQs on the subject.
We are here to help so please don't hesitate to contact us.