Non residential structural design
Together, Pole/Elite Designers team have a long history of providing structural design services for all kinds of construction projects, from offices and retail units to educational establishments and large mixed-use developments.
Elite Designers also specialise in design-build led schemes and temporary works design. Our structural design solutions bring innovation, practicality and cost-savings to projects for a wide range of clients. We work efficiently and effectively to tight design and construction schedules.
Structural support for media, TV and film
We specialise in providing site surveys and structural design support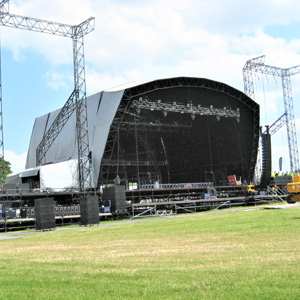 services for the entertainment industry. The work we do covers TV, film, location and outside broadcasts and our clients include production companies, sporting venues, staging and lighting companies and many more.
Our teams have worked on numerous BBC programmes and the Glastonbury Festival, the world's largest greenfield music festival. The structural engineering advice ranges from feasibility reports and Certificates of Structural Adequacy for locations and sets. Our priority is always to ensure projects are completed safely, smoothly, on time and on budget.
If you are planning a new structural design project, please get in touch.