The problem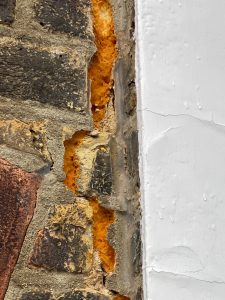 A Structural Engineer's Defect Report was carried out for a client's house in Raynes Park, Merton SW20. Our client was worried about cracking at the rear of their traditional Edwardian semi-detached property. There had been a history of movement, but new cracks had recently appeared. Our client wanted to find out if the cracks were serious and whether the repair costs would be met by their insurance company.
Our service and advice
Our structural inspection confirmed a long history of old movement between the main body of the house and a single storey extension. There were a series of large 20mm old cracks, which had not been repaired properly. A builder had unwisely filled the crack with expanding foam to keep the weather out and simply redecorated internally. Consequently, the wall was bound to crack again.
The new cracks, while significant, were 3 to 5mm. Cracks less than 5mm can normally be repaired routinely and inexpensively, without compromising the safety, strength, and stability of a building.
The result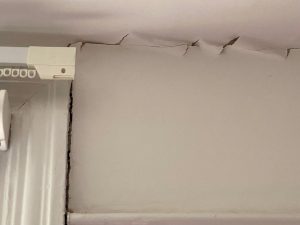 With our structural engineering expertise, we were able to determine the most likely cause of the cracking and offer advice on how to best reduce the risk of further significant cracking occurring.
Our forty years of local knowledge together with local geological maps indicated the property in Raynes Park was on London Clay soil. This type of soil is prone to subsidence movement in periods of drought and particularly when large trees are present.
A large 20-metre-tall tree was growing about ten metres from the property, and we expected this would have a system of roots extending as far as the house. It is worth noting that tree roots can spread horizontally underground to a distance equivalent to their height.
Our advice was to either remove or substantially reduce the height of the tree. Then wait a year or so for the soil to recover, before routinely repairing the cracks with structurally strengthening resin. We recommended that our client hired specialist contractors for this work, not decorators or general builders. We also advised that our client should check with their Local Authority whether the tree was protected by a Tree Preservation Order and to also liaise with neighbours regarding privacy issues.
The owner was entitled to claim on their home's building insurance policy for subsidence as they'd been insured with the same company prior to the damage occurring. It would be difficult to prove the date of the historic cracking, so our advice is to notify your Insurers of any damage even if you have no intention to make a formal claim.
If you are concerned about cracking or any other structural defect, we are here to help, so please don't hesitate to contact us.
We are here to help so please don't hesitate to contact us.